Nocturne VII, 2016
Sylvia Matas (MB)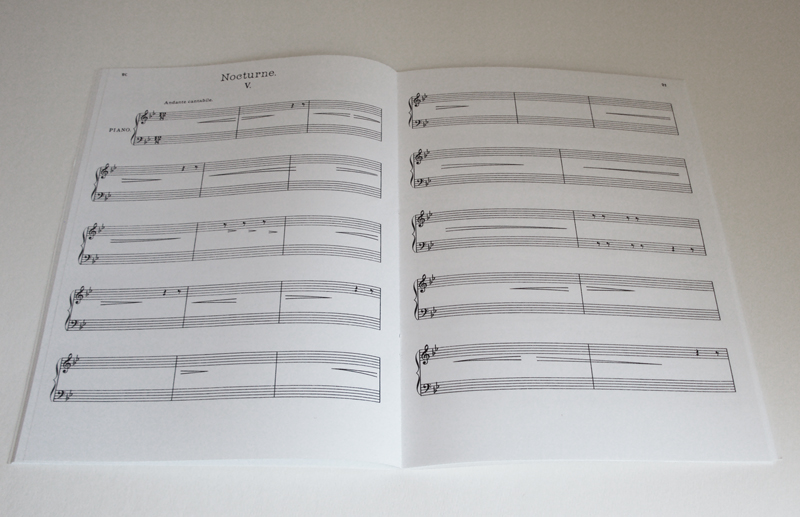 Parlour
468 Main St.
Monday to Friday, 7 – 5 | Saturday 9 – 5
September 15 – October 26, 2016
Nocturne VII is part of a series of altered scores of Nocturnes (compositions that are inspired by or evocative of the night), which were altered digitally by removing the notes and leaving only the rests, crescendos, and decrescendos. What is left is a score that is made up of the silences between and the rising and falling of sounds. Bringing a poetic interpretation of space and sound to this year's festival, we are pleased to present this elegant piece by Winnipeg artist Sylvia Matas in partnership with Parlour.
Sounding Space
Adam Basanta (QC)
Eleanor King (NS)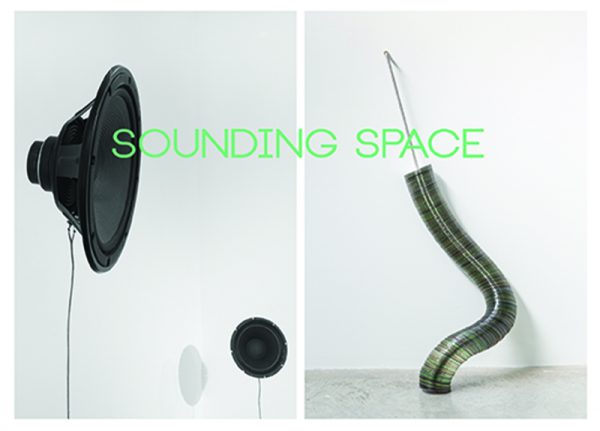 Gallery 1C03, University of Winnipeg
1st Floor Centennial Hall
545 Portage Ave
September 29 – November 26, 2016
Opening reception Sept 29, 4 – 6 PM
Adam Basanta artist talk in Room 2M70  at 6 PM
Eleanor King artist talk in Room 1C16A on October 15 at 2 PM
In partnership with Gallery 1C03, s+r presents Sounding Space, a two-person exhibition that explores the playful relationships between sound, implied sound, and architectural space.
Employing amplification techniques to make audible the physical relationships between microphones, reclaimed speaker cones and the gallery's acoustic environment, emerging Montreal-based artist Adam Basanta presents his poetic sound installation A Room Listening to Itself. The gallery becomes a giant resonator, amplifying acoustic activity and inactivity as a product of spatial relationships. As the audience moves through the space they become part of the piece by absorbing, reflecting and generating sound, which continuously integrates into the work.
Eleanor King, Canada's newest recipient of the Glenfiddich Artist in Residence Prize, will present her work in Winnipeg for the first time in this exhibition featuring a selection of King's Wormhole drawings as well as her sculptures Redacted Stack and CD Worm. King's vivid tunnel-like drawings constructed from CD tracings reference the physical magnitude of space in its abstract and concrete forms, serving as whimsical blueprints for otherworldly structures. Her sculptural works also utilize this sound media: CDs and their case, to generate pieces that embrace concepts of failure, obsolescence and cultural production while also existing as metaphoric sound works that engage with the gallery space as unique architectural forms.
Unstuck
Marla Hlady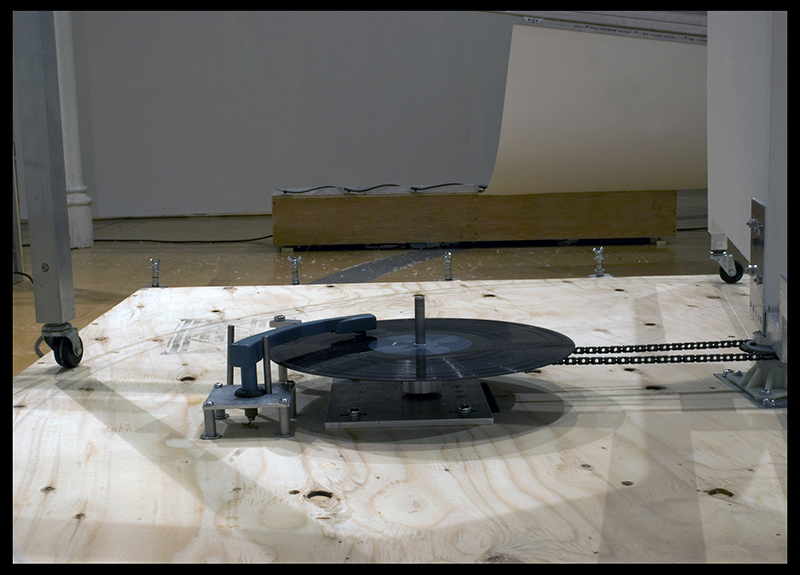 aceartinc.
290 McDermot Ave., 2nd floor
Tuesday  to Saturday 12 – 5 PM
October 7 – 28, 2016
Artist talk and opening reception October 7 at 7 PM
Toronto based artist Marla Hlady's creates distinct works that play with concepts of utility through audio, kinetic sculpture and sculptural installation. For our 18th edition we have invited her to present a solo exhibition featuring three works that engage with this years space & sound theme from a distinctly architectural perspective. This solo exhibition will feature a new version of Walls, a multi-dimensional kinetic sound installation that reimagines the gallery space as a moving sculptural instrument – Third Floor Radiator, a multimedia sculpture that scales down the Gairloch Gardens gallery in Oakville to dollhouse dimensions, with each room animated and activated as a unique sound object – and the silent and playful Leveller, a seemingly utilitarian machine that is perpetually seeking balance.
Presented in partnership with aceartinc. with the generous assistance of the Manitoba Arts Council, Ontario Arts Council and the University of Toronto at Scarborough.