Tetuzi Akiyama specializes in creating music with elements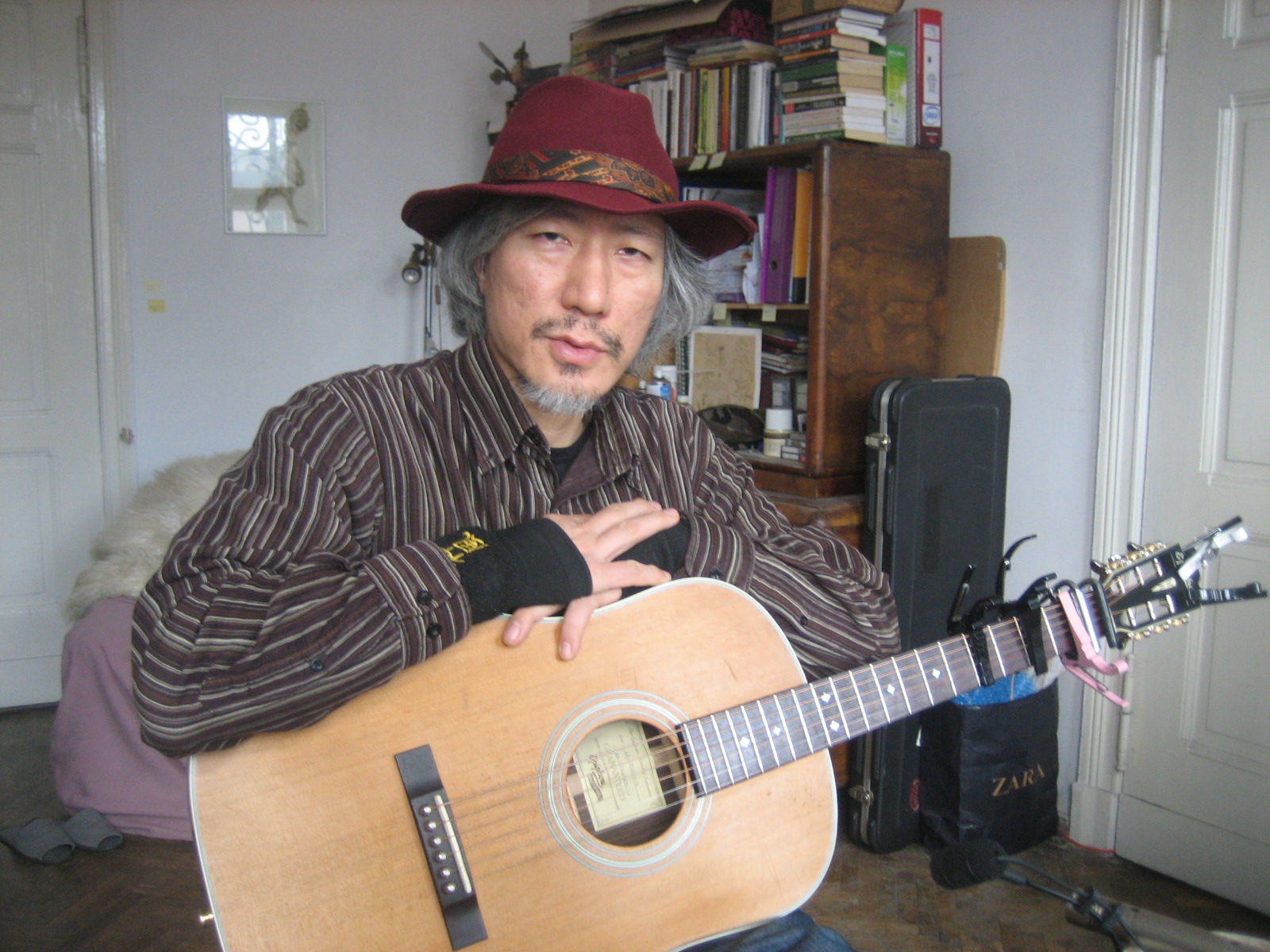 of both primitivism and realism by connecting his own aspirations, in a minimal and straightforward way, to the special instrumental qualities of the guitar. Besides his solo work, ranging in style from fingerpicking and slide acoustic guitar atonalism to noisy experimental drone to never-ending boogie, Akiyama has recorded many albums in collaboration with artists like Jozef Van Wissem, Phantom Limb, Oren Ambarchi, Martin Ng and Alan Licht, to name just a few.
Ellen Arkbro is a composer and sound artist from Stockholm,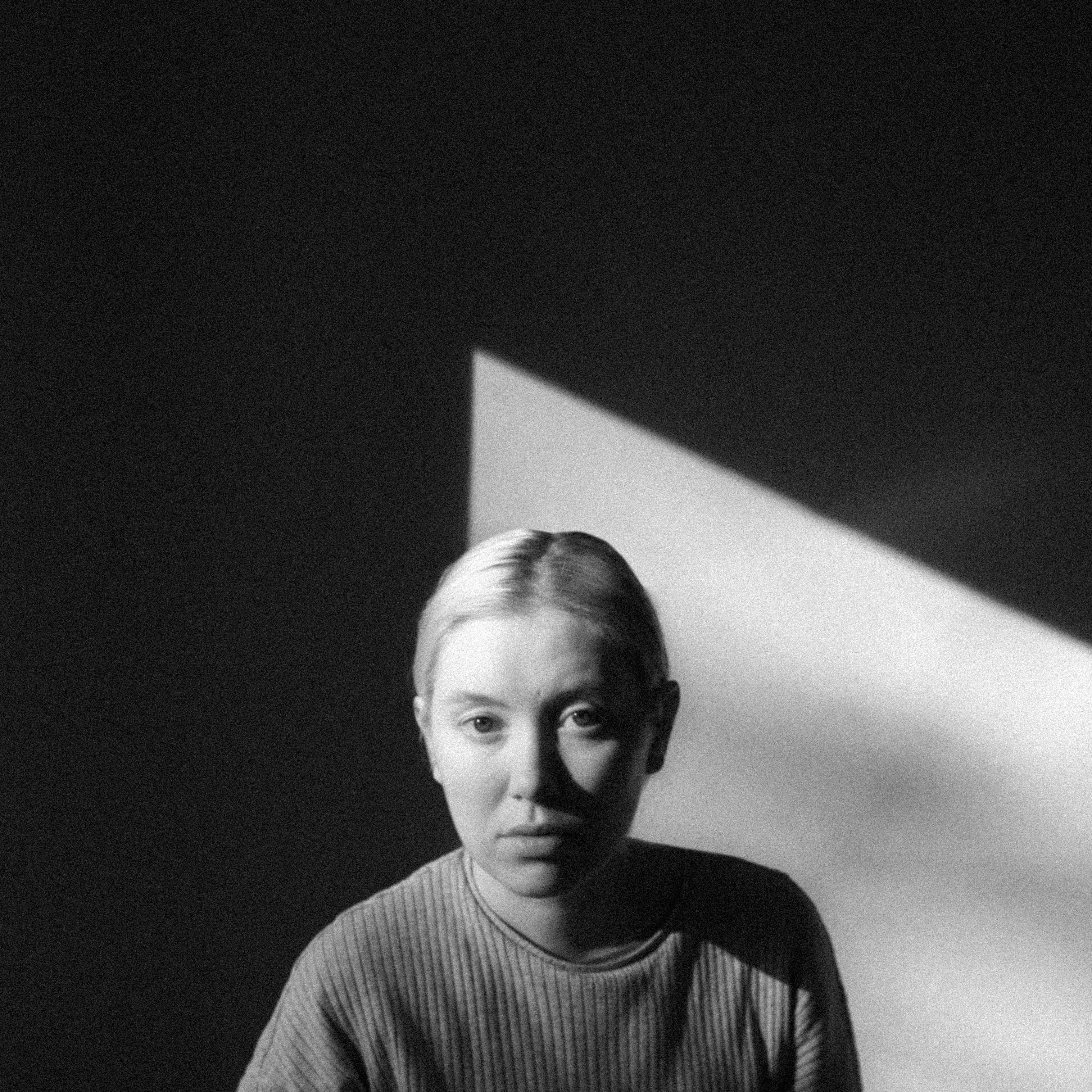 Sweden, primarily working with intervallic harmony in just intonation. Her work includes long duration compositions for ensembles as well as electronic sound environments in the form of installations and live performances, employing both traditional acoustic instruments as well as digital algorithmic sound synthesis.
Matt Henderson melds installation art, music production, film,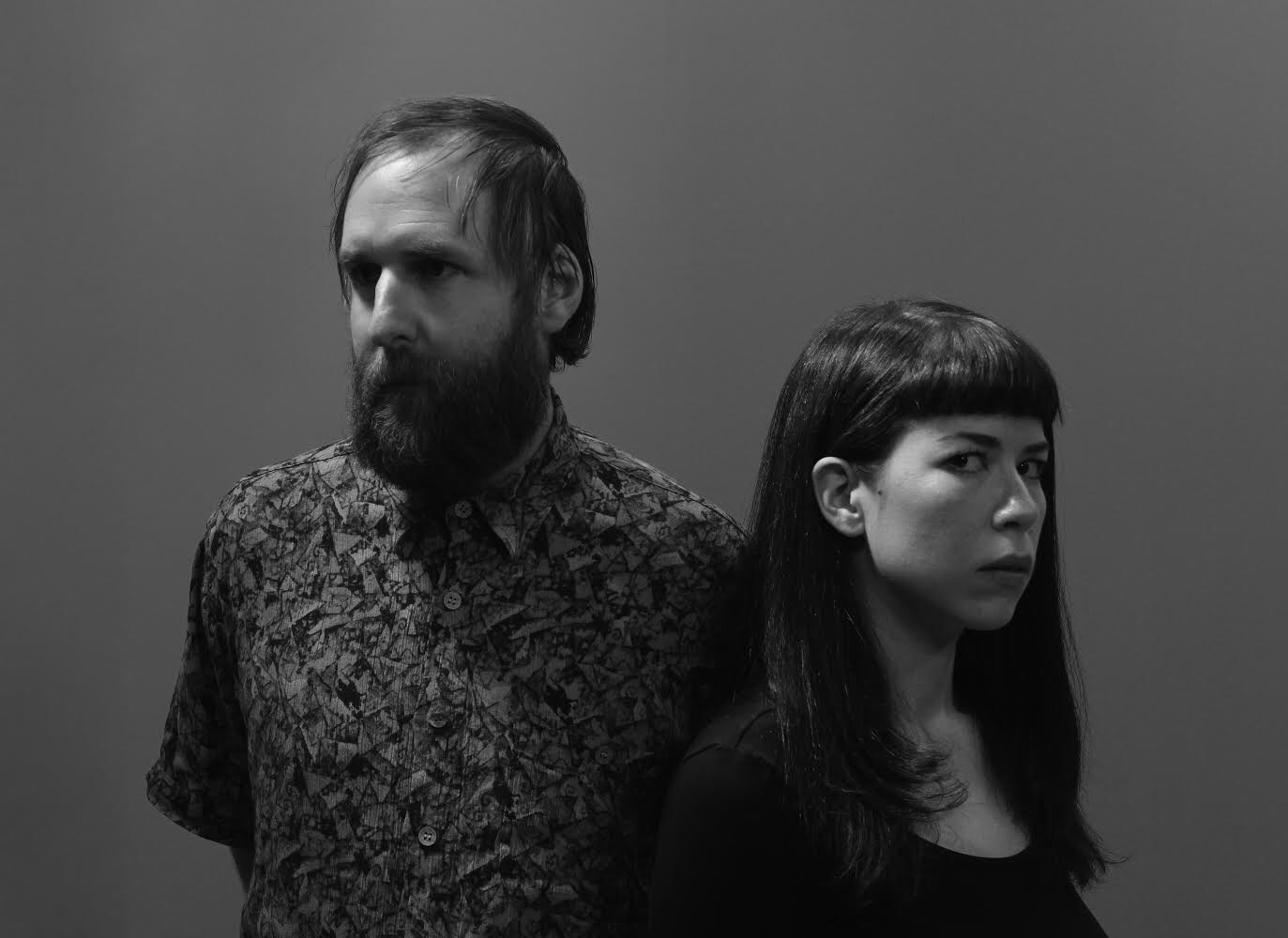 performance art and virtual reality in his work. He founded DIY performance venue Xhurch, an integral part of Portland's experimental art-music community, co-directed the M.A.S.S. music and performance series and founded artist-run Portland Immersive Media Group and multimedia environment Liminal Passage to explore the creative potential of virtual reality and other experiential art forms. Henderson is developing an Immersive Media program at Portland media arts centre Open Signal and teaches about Virtual and Augmented Realities at Portland Community College's STEAM Spaces.
Cecilia Lopez is a composer, musician and multimedia artist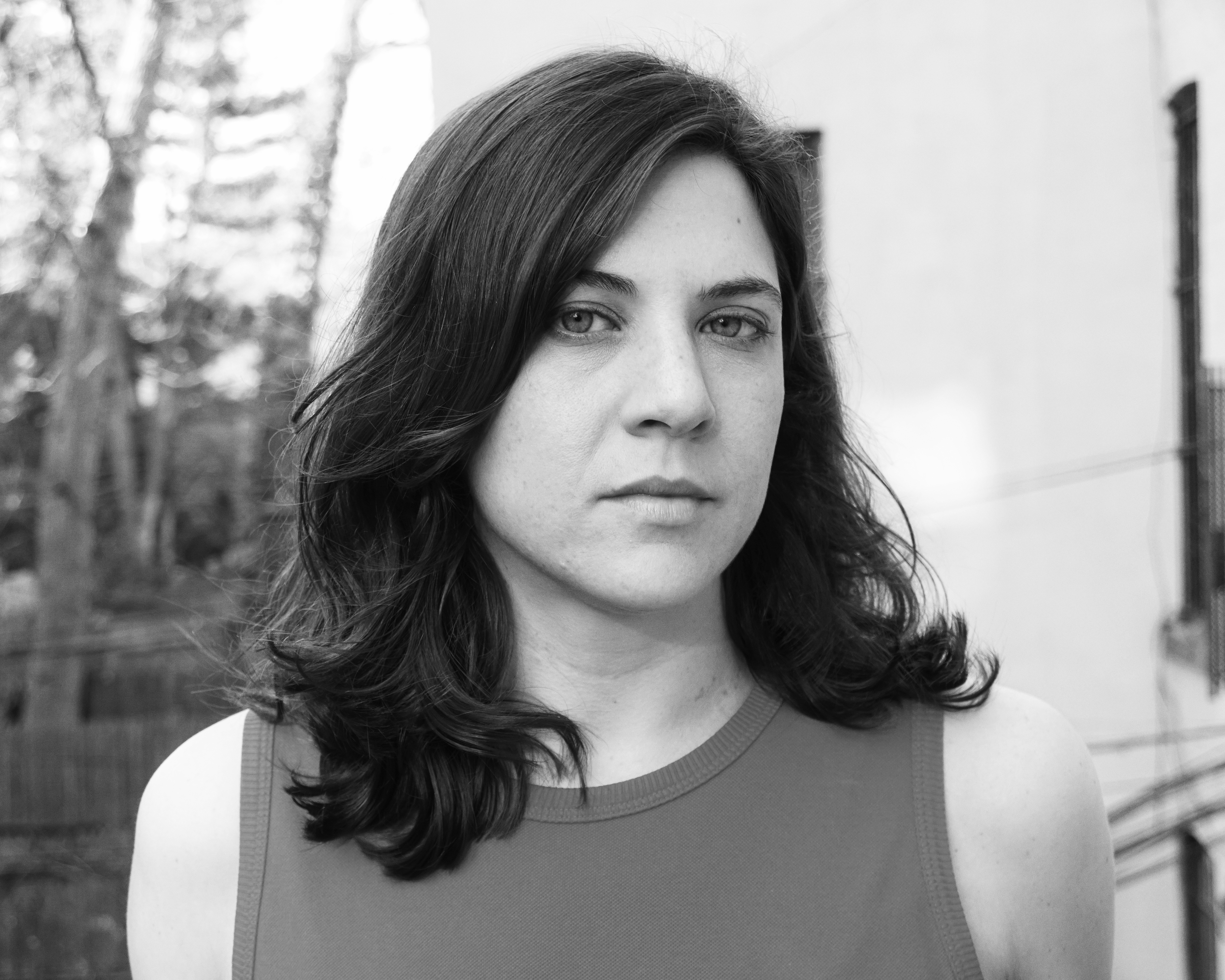 from Buenos Aires, Argentina. Her work explores perception and transmission processes focusing on the relationship between sound technologies and listening practices. She works across the media of performance, sound, installation and the creation of sound devices and systems. She studied composition with Carmen Baliero and Gustavo Ribicic. She holds an MFA from the Milton Avery Graduate School of the Arts, Bard College and an MA from Wesleyan University in composition (2016). Her work has been performed and exhibited at Museo de Arte Moderno de Buenos Aires (AR), Center for Contemporary Arts (Vilnius, Lithuania),Festival Internacional Tsonami de Buenos Aires (Argentina), Roulette Intemedium (NY), Issue Project Room (NY), Floating Points Festival (NY), Ostrava Days Festival 2011 (Ostrava, Czech Republic), MATA Festival 2012 (NY), Experimental Intermedia (NY), Fridman Galley (NY), Kunstnernes Hus (Oslo, Norway) and Ende Tymes Festival (NY), Festival Punto de Encuentro organized by the Asociación de Música Electroacústica de España (Spain), among others. She was a Civitella Ranieri fellow in 2015 and has participated in various residency programs such as: Atlantic Center for the Arts, Ostrava Days Institute, Harvestworks and Rupert Residency. She has collaborated in projects with Carmen Baliero, Carrie Schneider and Lars Laumann, among others.
Mira Martin-Gray is an improviser and reluctant composer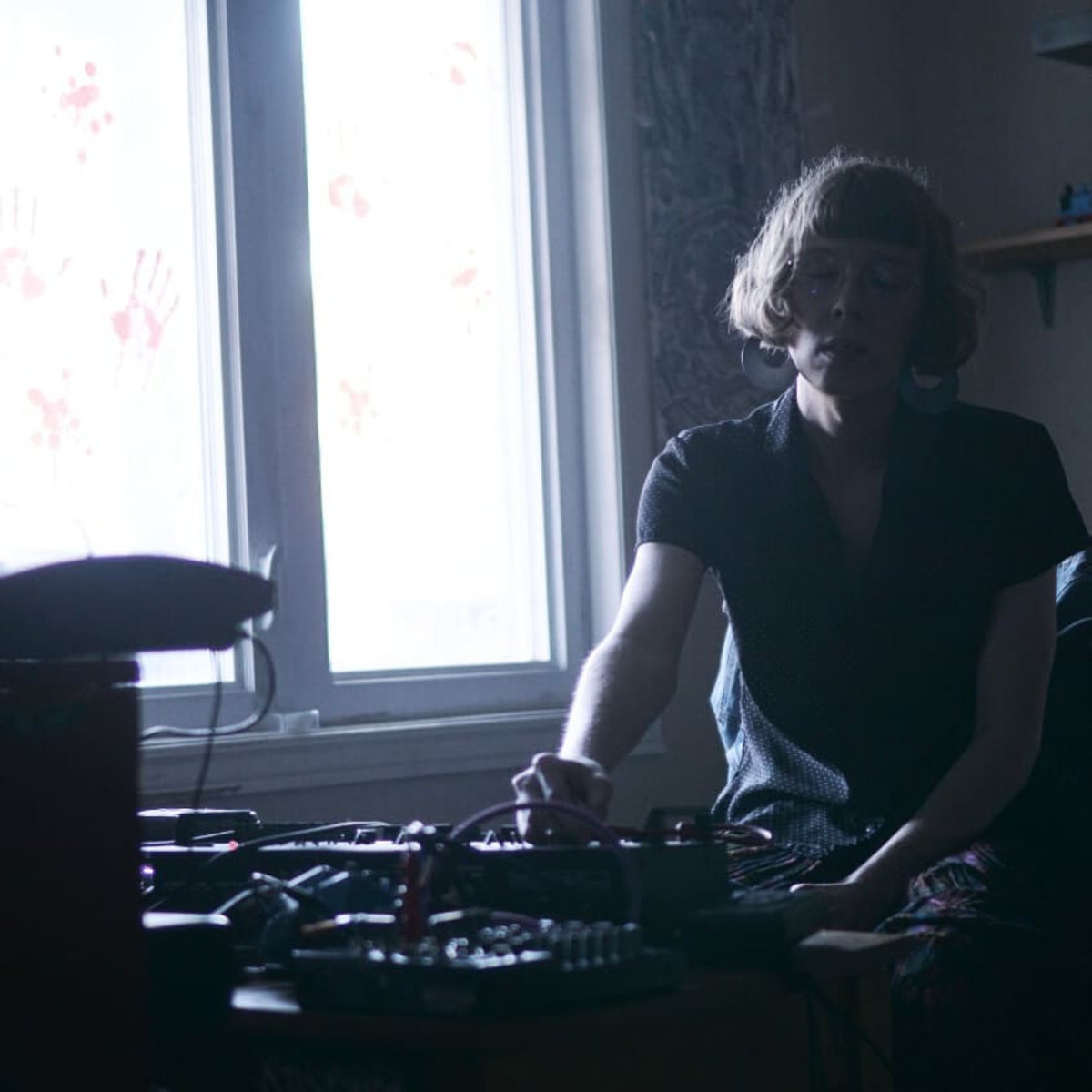 preoccupied by feedback, probing the intersections between noise and melody, drone and rhythm, indeterminacy and control. Reclaiming undesirable sounds, she wields the emotionally expressive power of abstract music to counter dominant cultures of (un)desirability. A multi-instrumentalist, disability led her to find means of making music accessibly.
Mariana Muñoz Gomez is an emerging artist, writer and curator
based in Winnipeg on Treaty One Territory, Manitoba. Her practice is situated at the intersection of identity, place, representation and language. Her work is informed by postcolonialism, intersectional feminism, diaspora, and displacement. Mariana has exhibited in artist-run centres throughout Winnipeg with recent solo shows at PLATFORM (2019) and La Maison des artistes (2017), and nationally at 918 Bathurst as part of the Toronto CONTACT Photography Festival and at the Alberta College of Art and Design. She is a founding member of Carnation Zine and co-curates window winnipeg. Mariana completed a BFA (Honours) degree at the University of Manitoba School of Art in 2016 and is currently a graduate student in the Master of Arts in Cultural Studies program at the University of Winnipeg.
Toshimaru Nakamura's instrument is the no-input mixing board,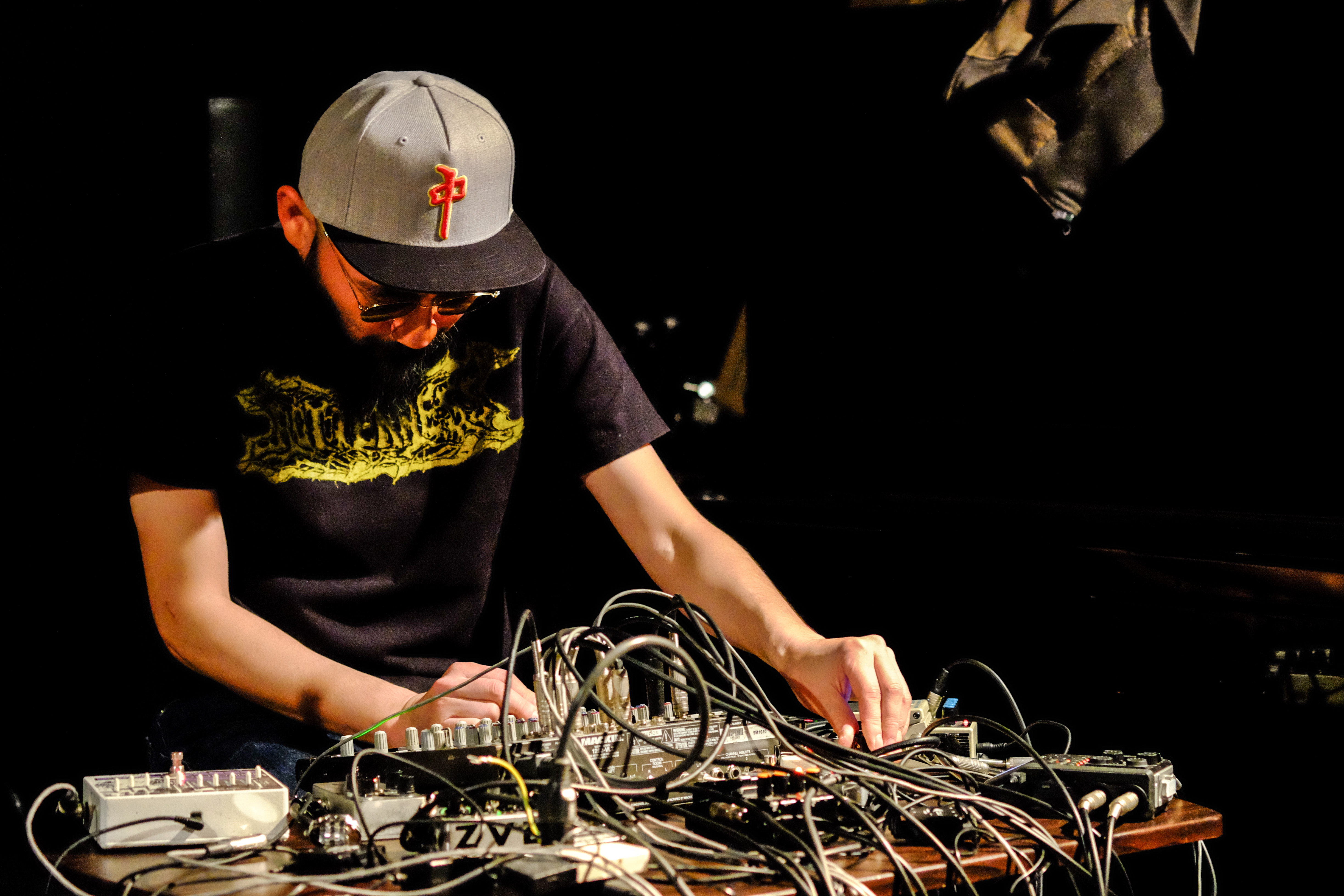 using a standard mixing board as an electronic music instrument, producing sound without any external audio input. The unpredictability of the instrument requires an attitude of obedience and resignation to the system and the sounds it produces, bringing a high level of indeterminacy and surprise to the music. Nakamura pioneered this approach in the mid-1990's and has since appeared on over one hundred releases, including ten solo CDs.
Kate Rissiek is an artist based in Vancouver, Canada who has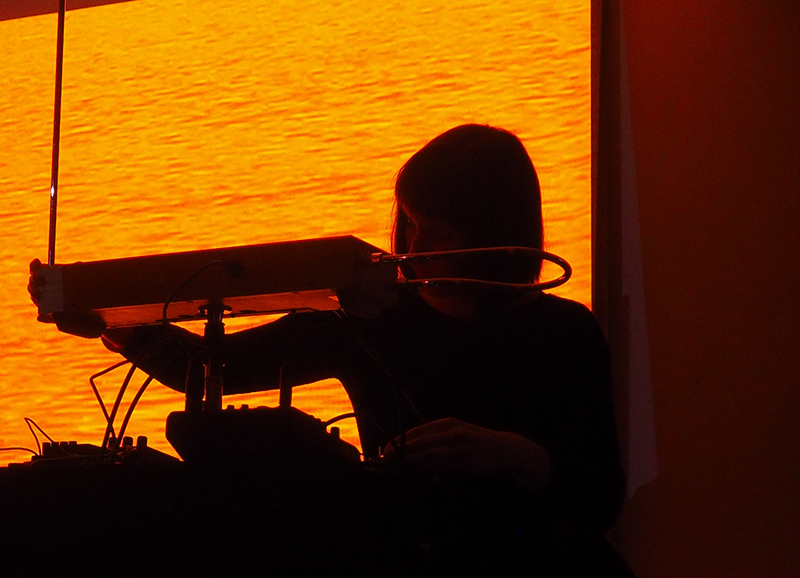 performed under the name Rusalka since 2007. Employing theremin and other electronics, Rusalka achieves visceral and, at times, abrasive sounds in her exploration of subconscious states and the dark recesses of human nature. A struggle between filth and transcendence occurs which stirs together crude electronics and an ethereal electromagnetic grasp for emergence. Her recent work often features subtle, yet profound, shifts in mood, timbre, and focus demonstrating a fervent refusal to clearly delineate between introspection and observation.
Sound of the Mountain plays amplified clarinet and trumpet, coming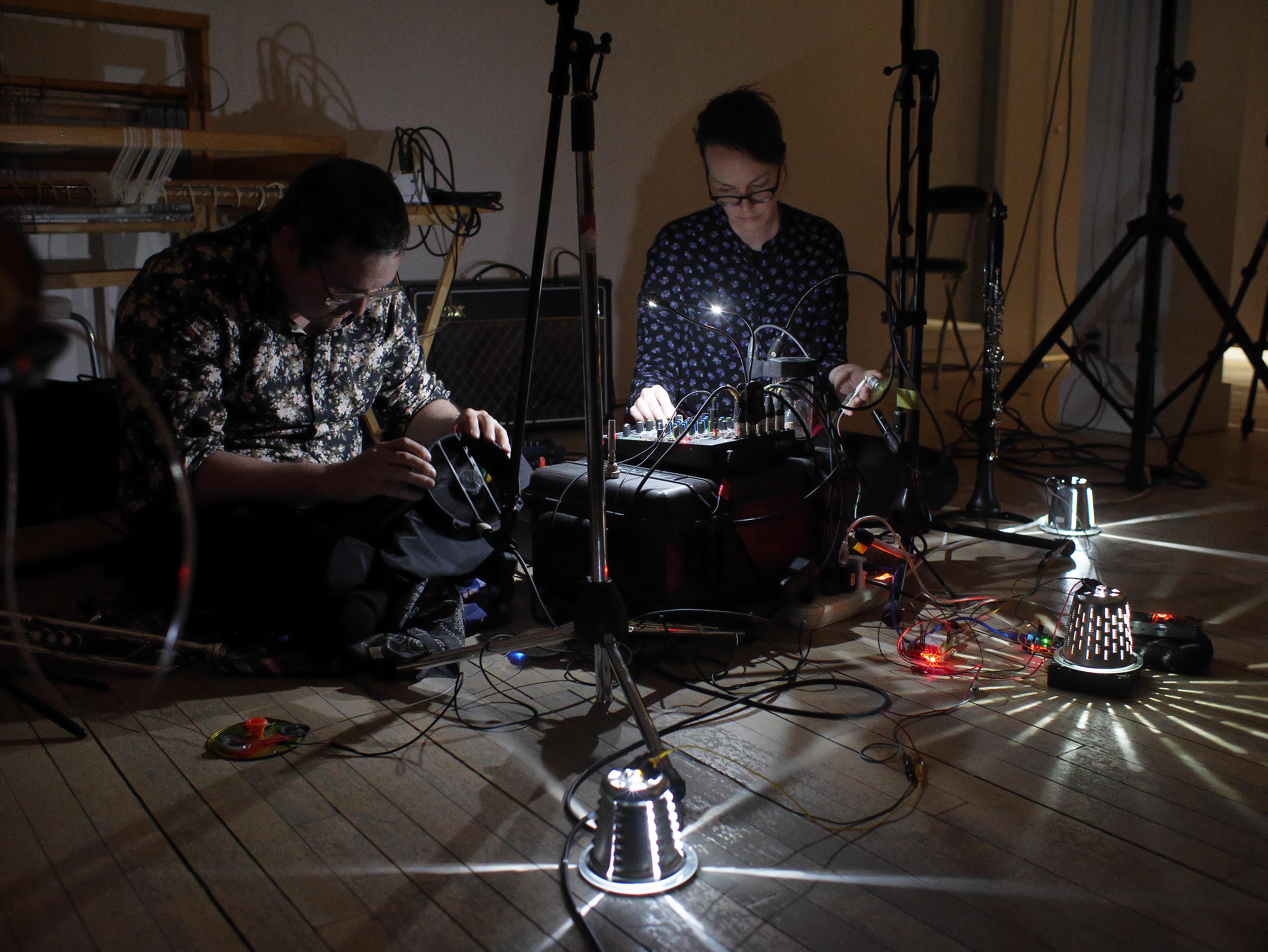 from a history of improvisation and extended techniques. Since forming in 2015, they have played over 150 concerts together, developing a sound language merging acoustic and electronic textures through amplification. With this language they create long-form soundscapes. They work with closely-mic'd instruments and minimal equalization, avoiding the use of effects pedals and loops, such that their constant physical attention drives the music. Active touring artists, they have played internationally in Japan, Taiwan, Vietnam, Malaysia, Singapore, Mexico and Australia, and coast-to-coast throughout Canada. Making a point of collaboration, the duo has collaborated with Japanese improvised music pioneers Toshimaru Nakamura, Tetuzi Akiyama, Takahiro Kawaguchi, Michiyo Yagi and Akira Sakata , Canadian experimental trailblazers like the electro-acoustic duo Instant Places, Tone Deaf's Matt Rogalsky, or Guelph's own hurdy-gurdy player Ben Grossman, and members of Quebec's experimental electronic community Alain Lefevbre, Anne-F Jacques, and Alexandre St-Onge, along with many many more.
Chloe Alexandra Thompson is a Canadian, Cree sound artist
living and working in Portland, Oregon. Thompson composes and performs works of sonic minimalism that explore spatial intervention and discrete frequencies using Pure Data, hardware and voice. Thompson's work (2 – 32 channel) has been presented by MUTEK Montreal (Canada), On the Boards (Seattle), Wayward Concert Series (Seattle), Corridor (Seattle), The Wiltern (LA), Qubit (New York), Quiet City (Vancouver, Canada), Subharmonic: Sonic Arts Symposium (PICA), Unity Gain: High Density Loudspeaker Array, and Variform Gallery, among others. She has also presented in collaborations for Converge45, Disjecta, Out of Sight (Seattle), SIX for Subharmonic, PICA Time Based Arts Festival 2016 and 2017, and Nationale.
Erik Tisu is one of many members of Korea Undok Group,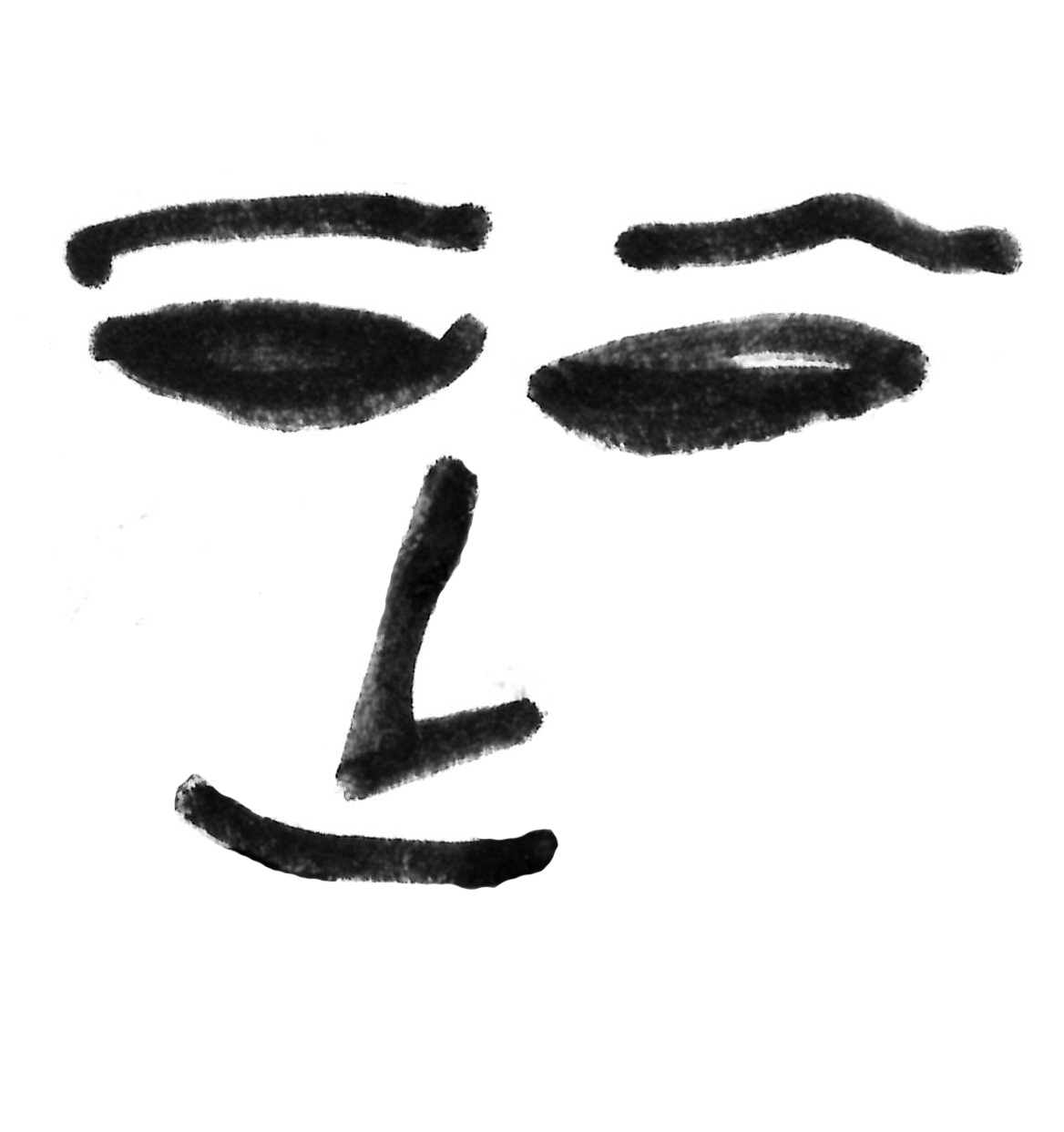 a prolific project and label anthologized in 2015 by Penultimate Press. He has been mostly inactive since 2017.
Casting lots in leaden bass, vocal incantation,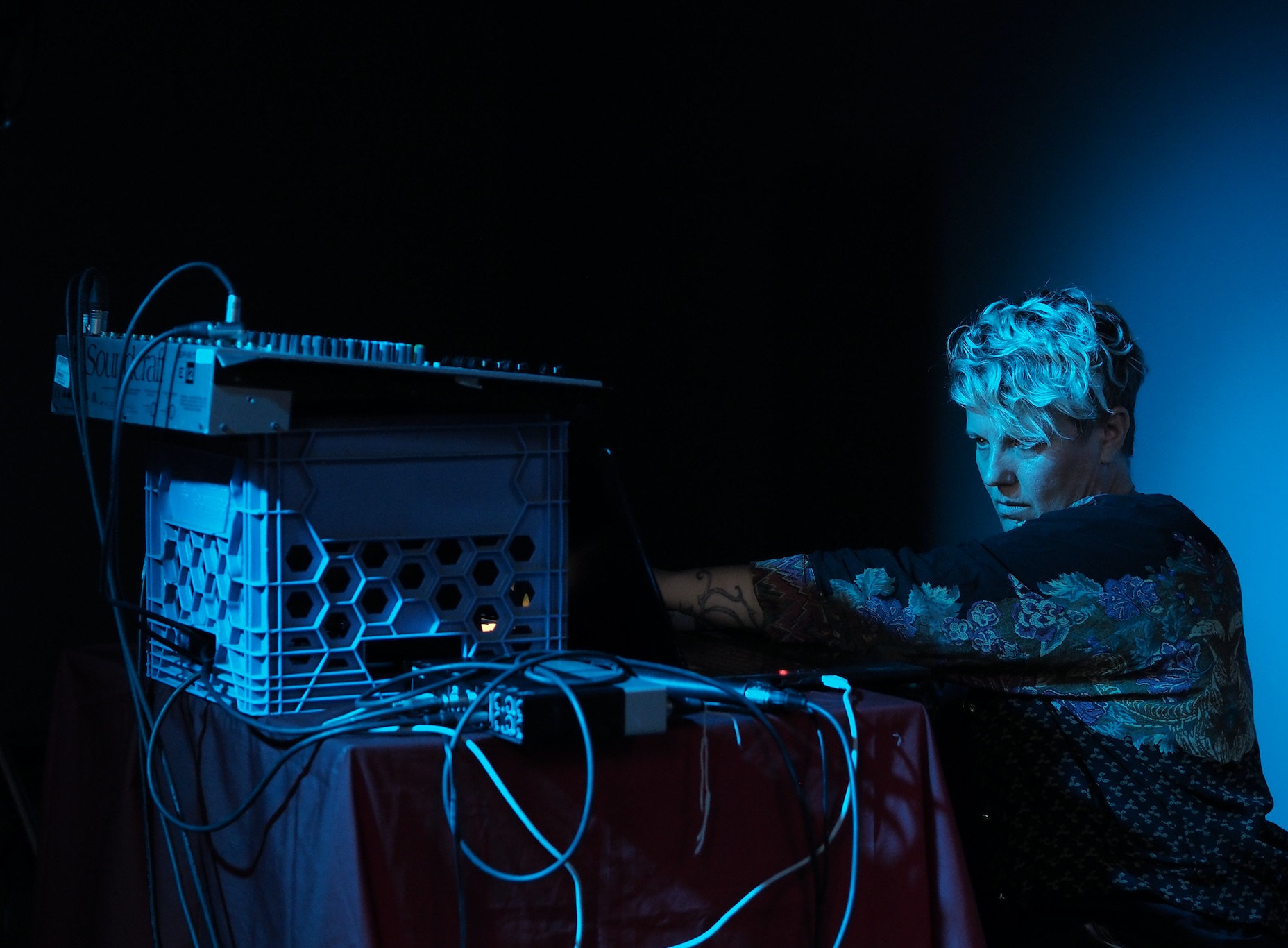 and swirling melodies and propagating through clouds of algorithmic disassociation, VOR is the solo experimental electronic project of Winnipeg based multidisciplinary artist AO Roberts. Roberts works primarily in installation, sculpture and sound performance and has toured internationally and released records extensively as a member of a multiple noise projects + feminist punk bands, including Kursk and Wolbachia. They have been performing solo as VOR since 2015.
Zachary James Watkins studied composition with Janice Giteck,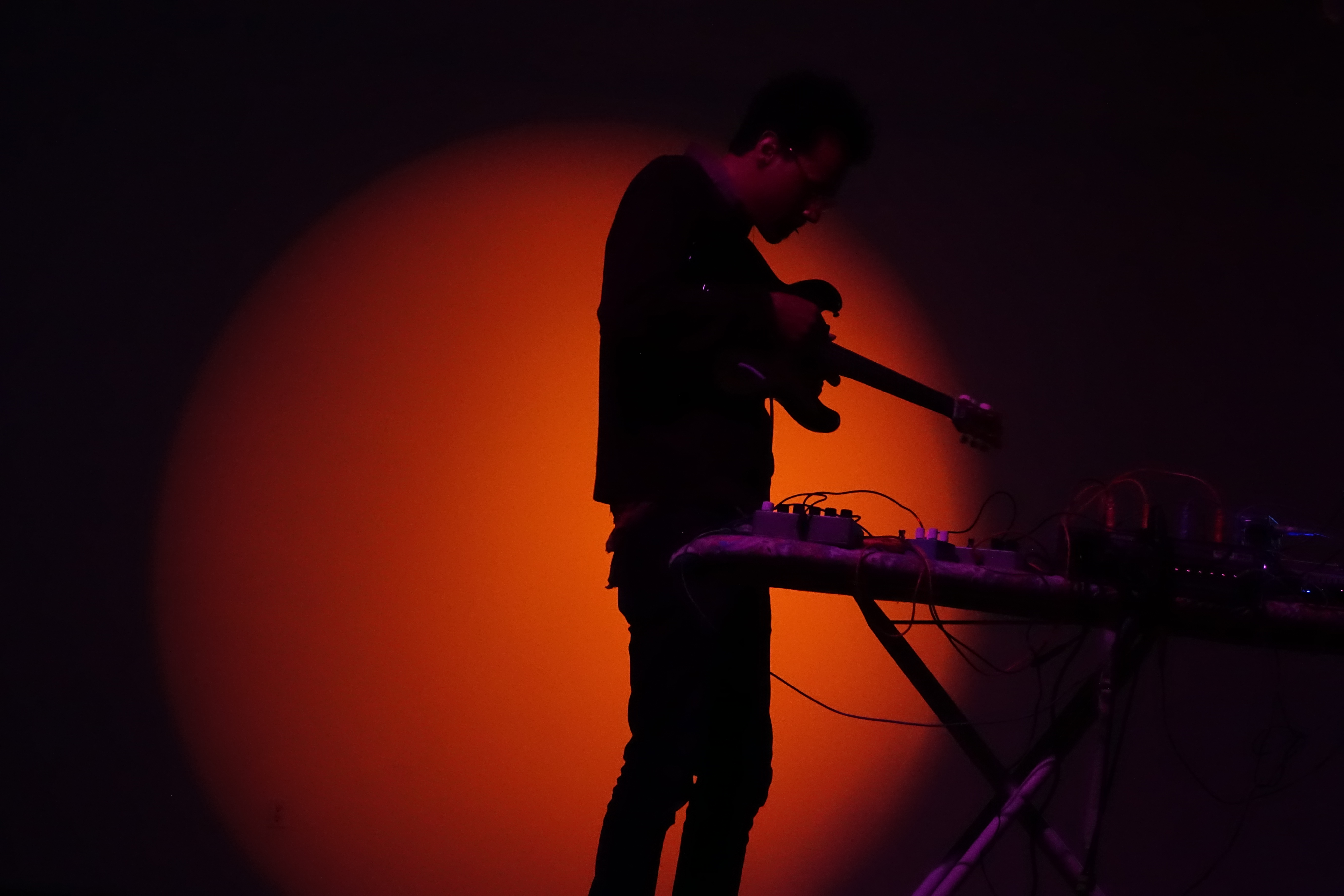 Jarrad Powell, Robin Holcomb and Jovino Santos Neto at Cornish College. In 2006, Zachary received an MFA in Electronic Music and Recording Media from Mills College where he studied with Chris Brown, Fred Frith, Alvin Curran and Pauline Oliveros. Zachary has received commissions from Cornish College of The Arts, The Microscores Project, the Beam Foundation, Somnubutone Radio Series free103point9.org, sfsound and the Seattle Chamber Players. His 2006 composition Suite for String Quartet was awarded the Paul Merritt Henry Prize for Composition and has subsequently been performed at the Labs 25th Anniversary Celebration, the Labor Sonor Series at Kule in Berlin Germany and in Seattle Wa, as part of the 2nd Annual Town Hall New Music Marathon featuring violist Eyvind Kang. Zachary has performed in numerous festivals across the United States, Mexico and Europe and his band Black Spirituals opened for pionering Drone Metal bandEarth during their 2015 European tour. In 2008, Zachary premiered a new multi-media work entitled Country Western as part of the Meridian Gallery's Composers in Performance Series that received grants from the The American Music Center and The Foundation for Contemporary Arts. An excerpt of this piece is published on a compilation album entitled "The Harmonic Series" along side Pauline Oliveros, Ellen Fullman, Theresa Wong Charles Curtis and Duane Pitre among others. Zachary designed the sound and composed music for the plays "I have loved Strangers" produced by Just Theatre, which listed "top ten of 2007" in the East Bay Express and the 8th Annual ReOrient Theatre Festival. His sound art work entitled Third Floor::Designed Obsolescence, "spoke as a metaphor for the breakdown of the dream of technology and the myth of our society's permanence," review by Susan Noyes Platt in the Summer 05 issue of ARTLIES. Zachary releases music on the labels Sige, Cassauna, Confront (UK), The Tapeworm and Touch (UK). Novembre Magazine (DE), ITCH (ZA), Walrus Press and the New York Miniature Ensemble have published his writings and scores. Zachary has been an artist in resident at the Espy Foundation, Djerassi and the Headlands Center for The Arts.