Visualizing a Sound Festival
Robert Szkolnicki (MB)
September 12 – November 4
Forth, 171 McDermot Ave.
Free | Mon – Fri, 7:00 AM –10:00 PM | Sat – Sun, 9:00 AM – 5:00 PM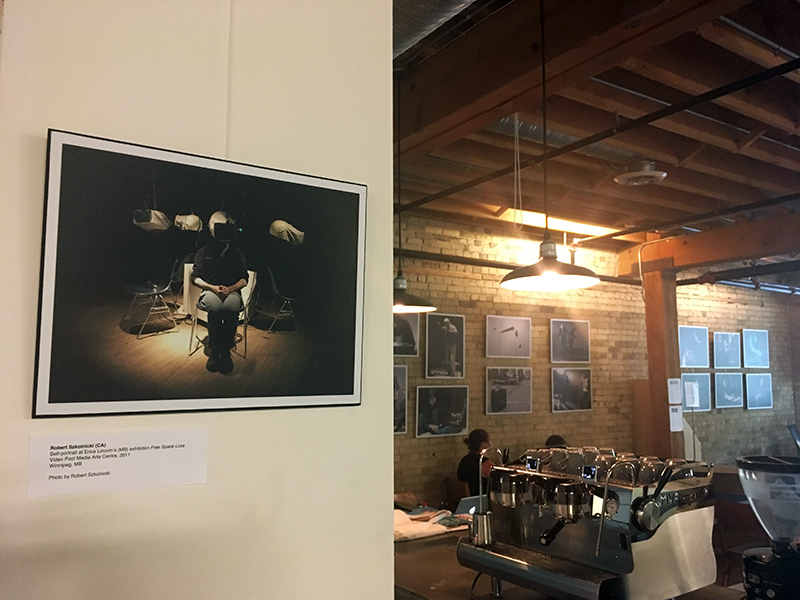 Over the past ten years,
Robert Szkolnicki
has been diligently photographing all of the events at send + receive. What began as a hobby born out of personal interest has steadily developed into a long-standing commitment to the festival. His beautiful images have become the core of our visual archive, and we are so grateful for his care and dedication. His generosity not only to send + receive but also to all of the artists who have been a part of the festival is invaluable.
For this exhibition Szkolnicki has selected of some of his favourite images through the years. These beautiful portraits give a peek into the breadth and individuality of the artists who have travelled from across Canada and around the world to perform, exhibit and discuss their work at send + receive over the last decade.
Stunning and memorable, these images celebrate the uniqueness of each artist as well as the distinct eye of the man behind the camera.
Special thanks to Gallery Lacosse for the generous sponsorship and beautiful mounting. Presented in Partnership with Forth.
Movement & Memory
Dee Barsy (MB)
September 14 – October 25
Parlour, 468 Main St.
Free | Mon–Fri, 7:00 AM – 5:00 PM | Sat 9:00 AM – 5:00 PM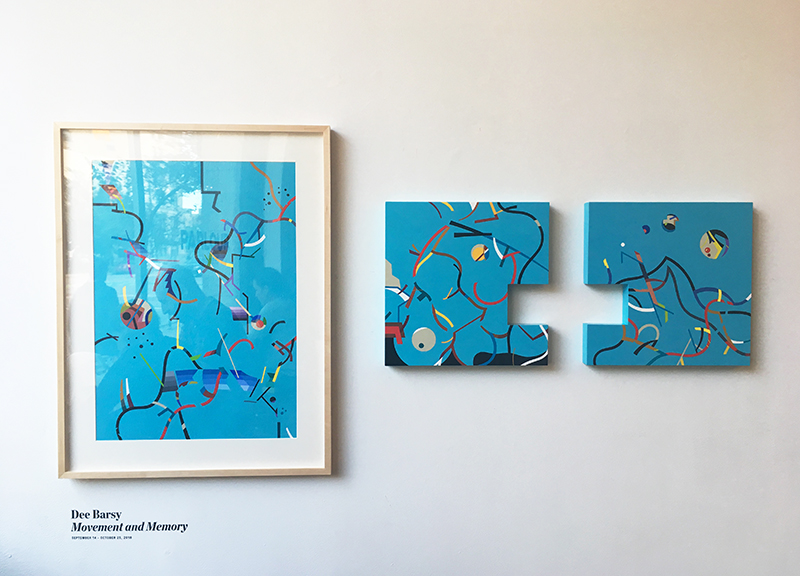 Dee Barsy
is a painter based in Winnipeg. In her recent work, Dee reflects on the various physical movements she performs during physical activity. For example, in
The Relationship Between my Foot and the Ground
, Dee explores the relationship between the body and the ground during activities such as running and walking. She is interested in the kinaesthetic, auditory and visual experience of unilateral movement. In her recent work, Dee has also reflected on overexertion, injury and body awareness. As a broad theme, Dee is interested in the relationship between mental health and physical exercise.
The Relationship Between my Foot and the Ground was created for the art concept of this year's twentieth edition of send + receive, and elements of the two other pieces on exhibition at Parlour were also used. We are honoured to have Dee's dynamic paintings defining this year's celebratory edition.
Presented in Partnership with Parlour Coffee.
An Alternate History of Canadian Electronic Music (1956–1981)
Curated by Keith Fullerton Whitman (US/AU)
October 4 – November 3
Poolside Gallery, Video Pool Media Arts Centre, 221-100 Arthur Street, 2nd Floor
Free | Wednesday–Saturday 12:00–5:00 PM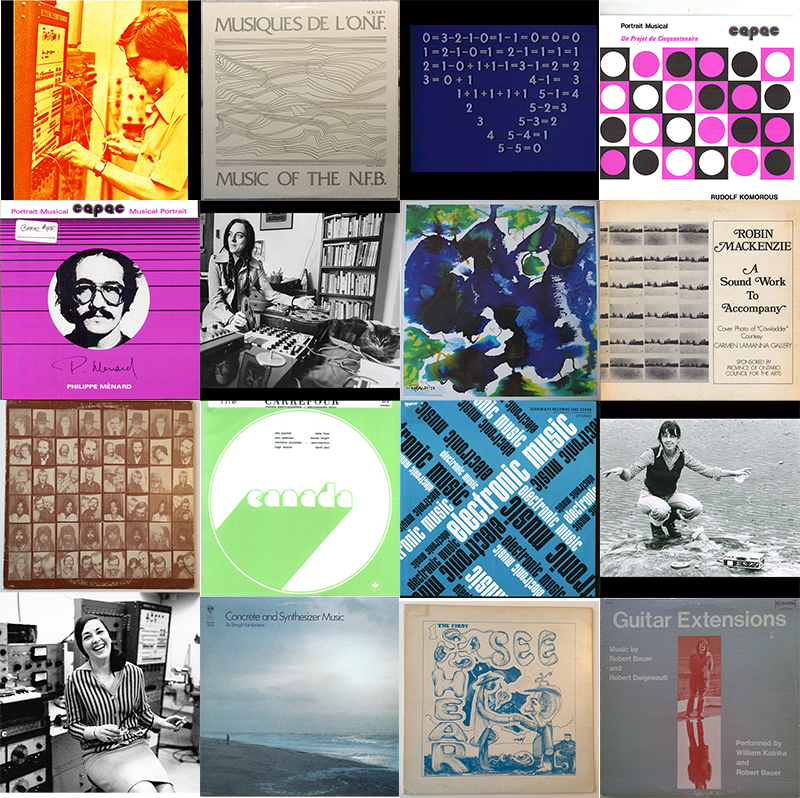 Broadcasts on CKUW 95.9 FM Sundays at 5:00 PM begin October 14.
During the course of this three-hour program, the listener will be drawn into the deepest recesses of early electronic music in Canada, focusing on obscure and transgressive pieces found outside of the usual academic lanes, all from the nascent days where psychedelia, sound poetry, experimental film and emerging audio and video technologies were all being explored with equal aplomb. The work of composers and musicians such as Wayne Carr, Robert Bauer, Lloyd Burritt, and Marcelle Deschênes will be explored, along with seldom heard pieces by storied figures such as Micheline Coulombe Saint-Marcoux, Rudolf Komorous, Ann Southam, Alain Clavier, Michel Longtin, and Norman McLaren.
We invite you to spend some time in our listening lounge space created specially for this occasion at Poolside Gallery through the generous sponsorship of EQ3. This playlist will also be presented as a Sunday series on CKUW 95.9 FM through October and November beginning on October 14.
This project was curated and coordinated by American artist and enthusiastic music researcher Keith Fullerton Whitman. From 2003 to 2015, he helmed the highly specialized experimental music distributor Mimaroglu Music and since 2016 has run online distribution Broken-Music.
Complete PLAYLIST:
Norman McLaren, "Rhythmetic" (1956, 7'49")
Norma Beecroft, "Two Went To Sleep" (1967, 2'54")
Wayne Carr, "Timbral Changes" (1968, 4'51"")
Jim Brown, Wayne Carr "There Was So Much" (1968, 5'35")
Robert Bauer "Extensions II (Guitar)" (1975, 8'23")
Robert Daigneault "Guitar Collage" (1975, 7'24")
Marcelle Deschênes, "L'Amer • Tube" (1972-73, Score to the Jean-Pierre Boyer film, 11'24")
Marcelle Deschênes, "Extraits De MOLL, Opéra Lilliput Pour Six Roches Molles" (1976, 8'03")
Philippe Ménard, "Femme-en-Songe" (1981, 3'49")
Alain Clavier, "Metadata" (1971, Score to the Peter Foldès film, 8'36")
Alain Clavier; "Ceci est un message enregistré" (1973, Score to the Jean-Thomas Bédard film, 10'16")
Gilles Tremblay, "Dimensions Soleils" (1970, Score to the film by Raymond Brousseau, 4'17")
Micheline Coulombe Saint-Marcoux, "Zones" (1972, 9'12")
Ted Dawson, "Concerto Grosso I (for Tape)" (1973, 13'30")
Ann Southam & sean o'huigin; "Sky-Sails (Part Two)" (1973, 15'12")
Lloyd Burritt "The Hollow Men" (1968, 2'00")
Roy Cooper, "Prelude to 1984" (1970, 7'00")
Michel Longtin,"La Mort Du Pierrot" (1972, 5'32")
Bengt Hambraeus, "Tides" (1974, 14'48")
Rudolf Komorous, "Part Of A Canon From Anatomy Of Melancholy "(1974, 5'06")
Victor Grauer, "Inferno" (1967, 6'28")
Robin MacKenzie, "A Sound Work To Accompany" (1972, 23'51")
Presented in partnership with Video Pool Media Art Centre and CKUW.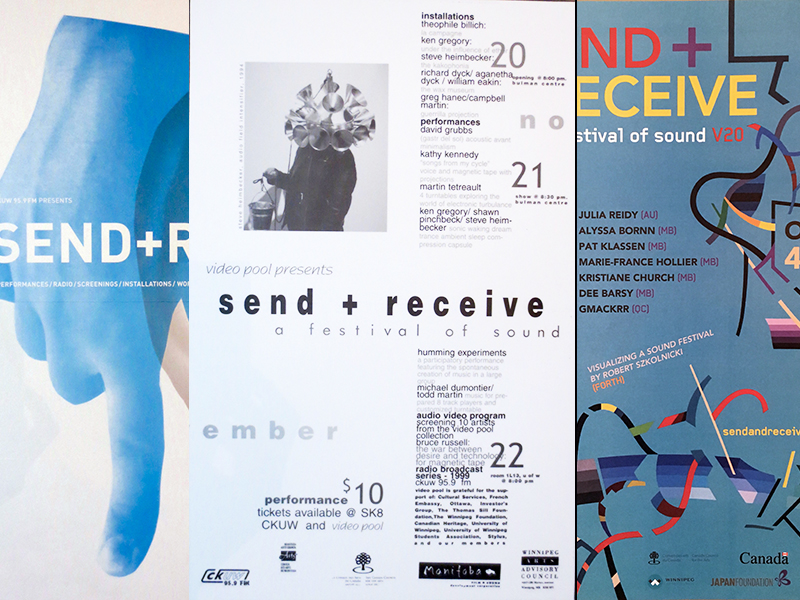 A complete poster archive from the past
twenty years of send + receive
will be on display at Poolside Gallery throughout the running of our listening lounge program,
An Alternate History of Canadian Electronic Music (1956–1981).
Come take a look at the incredible history of the festival and this amazing archive of design and artwork through the years!
pictured: v10, v01 & v20